Increased Income and Access to Social Protection for Women in Negros to Prevent Trafficking and Migration
After three years of operation, VF completed a three-year project to prevent trafficking and break the cycle of domestic work. More than 150 women of the Bantay Komunidad (Community Watch Group) in Dumandan, Negros Oriental, co-owned and co-created the Ventures for Freedom, a sustainable model of community-based social enterprise development (SED). 
Through the support of the Macquarie Group Foundation, around 156 active members have increased their incomes by knitting scrap clothes into doormats and potholders. Weaving these products at home while caring for their family, the mothers supply local department stores and schools such as Silliman University.
The project offers an alternative to migration risks, including limited job opportunities, exploitation, or precarity during employment abroad. Many families of migrants remain dependent on remittances.  
"I was able to generate income even during the pandemic," says Nanay Venancia Asula, who underwent training in proposal development under the  Department of Trade and Industry.
The constant income stream also enabled the mothers to diversify to other income streams, such as meat processing and training kit production, like tote bags. Some members have expanded to hog-raising, chicken poultry, and vegetable gardening.
The Department of Labor and Employment's Integrated Livelihood Program (DILP) awarded PhP672,390 in grant assistance to procure scrap clothes, home-based sewing machines, and equipment for meat processing. 
The BBK then adopted the "Earn to Own" scheme wherein members can own equipment such as sewing machines once they achieve a specific income target. This approach has incentivized members to maintain consistency in their outputs and active participation in livelihood activities. 
Using the SED model to gather the interest of other vulnerable women, BK leaders also raised community awareness about human trafficking and safe migration in adjacent areas. The Provincial Council for the Welfare of Children (PCWC) awarded a PhP150,000 grant to conduct community-based seminars on trafficking, child labor issues, and related laws. In partnership with the DSWD, the watch group trained 425 government employees, barangay officials, health workers, barangay police, and beneficiaries of the 4Ps program.
Before the project started, almost all the mothers in Dumandan had no access to primary social services, healthcare, housing, legal aid, financial assistance, and social welfare programs. They were vulnerable to economic shocks and health issues, especially during the pandemic. By the end of the project, more than 60% had actively accessed SSS, PhilHealth, and other government social protection services. 
"I was able to pay my SSS six months in advance," a mother proudly says. The regularity of income through the social enterprise also enabled others to sustain their regular payments. Some husbands also help in reliving and making inventories of doormats. Working together, the women and their husbands enlisted in SSS.
For these achievements, the BK Dumandan was recognized by the  LGU of Zamboanguita during the 2023 celebration of International Women's Day. "Gender equality and women's empowerment is at the core of our prevention efforts," says VF's Partnership Officer, Ms. Marlene Pepino. Through active participation and innovative thinking, women leaders can contribute to change." 
Pepino also revealed that the BK launched a fresh initiative called the "Kahayag Para Sa Kalambuan" (Light for Development) in their latest innovation. Recognizing the need for improved vision aids to conduct detailed sewing tasks and recordings effectively, the BK team members proactively pooled resources to secure eyeglasses. 
In a similar celebration of Women's Month, the Provincial Government of Negros  Occidental (PGNO) and Bacolod City recognized VF during the 'DigitAll: Innovation & Technology for Gender Equality. VF's Partnership Coordinator, Ms. Ma Berjane Salvio-Roa, shared "Work Skills Connect," a revolutionary job portal platform to support those who lost employment due to the pandemic and pave the way for a new era of inclusive and sustainable job opportunities. Conceived with The Design Thinking Factory, this online tool is a testament to VF's commitment to leveraging technology for social good.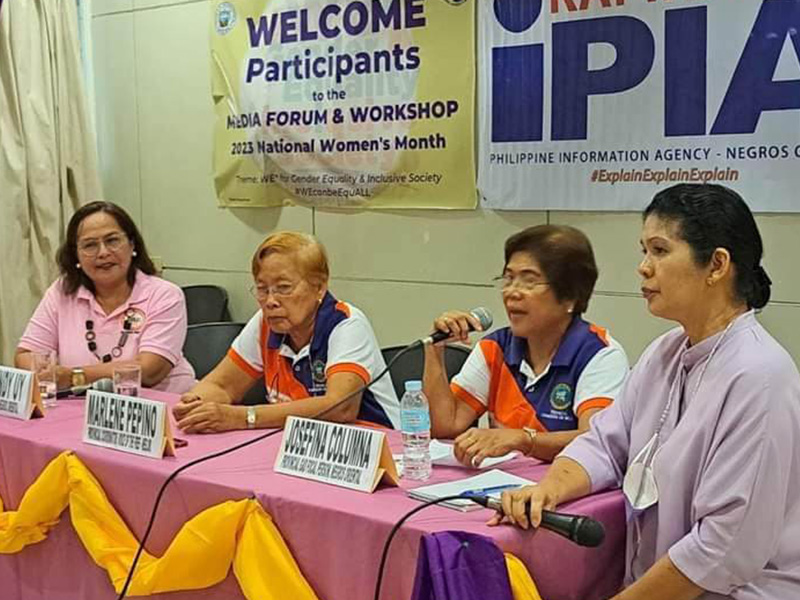 Grab a copy of Freedom Digest
You may download a PDF copy of the first edition of Freedom Digest; our redefined newsletter. Just click the button below.